Sail Annapolis
303 Second Street, Suite C,
Annapolis Maryland, 21403
Tel:(410) 280-8878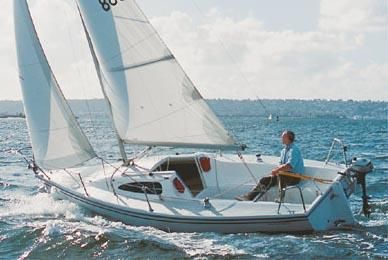 The Capri 22's striking deck profile is flared across the stern and has wider cockpit curves for crew comfort during and after sailing. Under the full reclining length seats is a new storage locker and separate battery locker. A complete racing package is available, including: symmetrical spinnaker, sheets, pole and backstay tension adjuster. The enclosable head and available galley module make the Capri 22 suitable for extended daysailing or weekending.
Sail Area

IJPE : 229.00 sq ft
I : 25.00 ft
J : 8.17 ft
P : 26.00 ft
E : 9.75 ft
Keel Details
Keel #1
Keel Type: Wing
Ballast: 700 lb
Displacement: 2250 sq ft
Max Draft: 2.67 ft